The July Project: Day 5
I wrote a draft blog post this morning about some social aspects of taking care of your health. I'm saving that one for another day, though, because I'd rather share the story of tonight's trip to the park.
---
I was starting my walk at Memorial Park tonight when my iPod battery died.
Rather than carry the useless thing for 6½ miles, I walked back to the car and threw it in the trunk. As I started again, I considered whether the dead battery might be a sufficient excuse for cutting tonight's walk short. I rationalized the value of getting home an hour earlier, maybe getting some more work done before bedtime.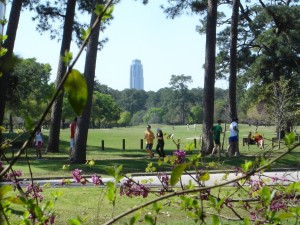 But when I'd walked about a mile, I ran into Gary, an old friend and a park fixture like myself. He was walking in the opposite direction, but when we met, he turned around and joined me. We walked together the rest of the way. I didn't cut my walk short after all.
Three miles later, we got to talking about some of the other "frequent flyers." We talked about the guy who ticks off his steps on his fingers and the strange fellow who sings and dances and jumps up on benches à la Fred Astaire. Gary said that he and his running buddies have given nicknames to a lot of the regulars. I've made up nicknames, too. We compared notes on Speedy (a.k.a. Tortilla), the Milk Man, Robot Girl, and many others. We also described familiar faces who've come to feel like friends over the years we've inhabited the park.
At that moment, I spotted a guy heading toward us whom I'd dubbed Inside-Edge Guy. He's a sinewy, 50- or 60-something hispanic man who likes to run on the grass under the trees along the inside edge of the trail instead of on the trail itself. He and I have been on chatting terms every since the day he zigged when I zagged and we had to apologize for crashing into one another. When I saw him coming tonight, I held up my hand and yelled, "Hey, what's your name?" He came over, and the three of us made introductions. (He never actually stopped, but jogged in place while he talked to us.) I'm glad that from now on, Inside-Edge Guy can be known by his real name, Joseph.
About a mile later, we encountered a young woman Gary knows from the gym. They hadn't seen one another in a while, so she turned around, fell into step with us, and they set about catching up. For the rest of the walk, Lura, Gary, and I talked about walking, running, yoga, aikido, rowing, marathons, the park wildlife (two- and four-legged), and how much we enjoy the time we spend there.
Tonight's thought:
You're never doing this alone, even when you do it by yourself. There's plenty of company in the struggle to get or remain healthy. You'll find allies in the quest, companions for the journey. A shout out tonight to Gary, Lura, and Joseph for the pleasure of their company, and also to Damien, Xavier, Christian, and many other as-yet-nameless friends. Thanks for your smiles, waves, and silent encouragement.