The July Project: Day 2
I see T‑shirts with slogans like "Softball is life," "Rugby is life," "Shark-diving is life," and so on. I used to find them stupid and arrogant. What the heck is that even supposed to mean: softball is life? Obviously, there's a lot more to life than softball.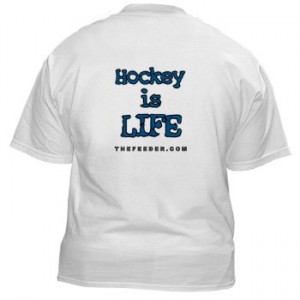 Gotta have it? Go ahead and click. I won't tell.
Then I found my own exercise passion: walking. It didn't turn into an obsession overnight, and I never felt compelled to rush out and buy a walking is life T‑shirt. But I got hooked on it.
And over the course of several years, I discovered the wisdom of the T‑shirts, which is today's message:
Find a physical activity that you really enjoy. You'll do a lot of it, and you'll get more fit. It's a simple equation—you're likely to do more of an activity that you enjoy. And more activity nearly always equals better health, which equals a higher quality of life—and with any luck, more of it.

It turns out that for me, walking is life.
Of course, you could also do a whole lot of an activity that you don't enjoy. I used to drag myself to the gym, sometimes as much as four or five times a week. But I never loved it. It never became a passion, so it was easy to give it up whenever other distractions presented themselves. I'm only human, and if I'm not enjoying what I'm doing, I'm not going to keep doing it forever.
I could walk forever. I plan to walk forever—or as long as my legs cooperate.
Maybe walking isn't your thing. And if you don't enjoy it, I don't want to talk you into it. But I'll bet you can find something else that you like: bicycling, jogging, running, tennis, racquetball, swimming, dancing, Pilates, whatever. Find a fitness studio or YMCA. (Houstonians, check out NiaMoves, a Heights studio that offers a couple of dozen different forms of movement; first-time students get two weeks of free classes.)
Try something. Try everything! You'll find something that you enjoy. Buy the T‑shirt. Wear it passionately.