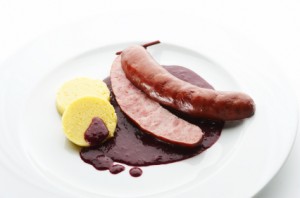 I made polenta for the first time at Christmas, but I found the stovetop method tedious and time-consuming. Then I had the idea to try making it in a rice steamer. I couldn't find a recipe online that I liked, so I made up my own. I was very happy with the results, so here it is.

---
Ingredients
4 T butter
1 c fresh or frozen corn kernels (or more to taste)
Freshly ground black pepper
2 c chicken stock
1 c milk (I used 2%)
1 c dry polenta
1/8 t garlic powder or 2 cloves of garlic, finely minced
1/2 t dry basil leaves or 2 t fresh basil, finely chopped or as a chiffonade
Instructions
Prepare your rice steamer as you would for cooking two or three cups of rice. Mine is a Black & Decker, so preparation entails filling the base with water to the highest mark, then putting in place the outer perforated basket and the inner rice basket and plugging in the steamer.
In a two-quart saucepan, melt the butter over medium heat.
Add the corn kernels and a generous grind of black pepper. Turn the heat to medium-high. Saute until the corn starts to brown, between five and 10 minutes, depending on how brown and roasted you like it. (I like a lot of caramelization and chewiness in fried corn.)
Add the chicken stock and milk to the pan. Bring to a boil, then reduce the heat to medium low.
Sprinkle in the polenta a little at a time, whisking to avoid lumps as you go.
Once you've whisked in all of the polenta, stir in the garlic and basil. Remove from heat.
Pour the mixture into the rice basket of the steamer. Steam for 30 minutes. Stir the mixture. It will be fairly thick by this point. Smooth the surface back down with a large spoon or rubber spatula. Steam for 30 more minutes.
Spoon the mixture into a buttered 8″ square pan, buttered ramekins lined with buttered cheesecloth, or any other pan or mold that will yield an attractive presentation. Press down to get the polenta into the corners, using a piece of waxed paper to keep it from sticking to your fingers.
Allow the polenta to cool for at least two hours at room temperature or in the refrigerator. Remove from the refrigerator half an hour or so before the final stage of preparation to allow it to come back to room temperature.
Unmold the polenta, or if you've used a large pan, slice it with a knife or cookie cutter into individual servings.
The polenta can be served at room temperature with a hot sauce or topping, warmed in the oven, brushed with melted butter and grilled under the broiler, or fried for a few minutes in butter or olive oil.
Serves eight.
---
I molded the polenta in ramekins, then after unmolding, reheated it in the oven and served it as the base for grilled mild Italian sausages, slices of freshly charcoal-roasted red bell peppers, and
Robin Miller's Roasted Red Pepper Sauce
.
---
Variations:
Substitute turkey stock for the chicken stock and add some sage and thyme in place of (or in addition to) the basil, and your polenta will taste like cornbread dressing that was cooked inside a Thanksgiving turkey!
Or add some ground cumin and chili powder to the polenta, and then accompany it with taco-seasoned meat, salsa, and guacamole.