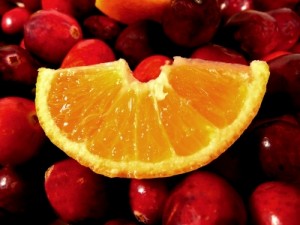 This is one of my most popular scone recipe variations. Dipping the scones into a powdered-sugar/juice glaze while they're still warm gives them a crunchy, sweet-tart crust. (Start with the basic scone recipe and instructions.)
Additional Ingredients
1 orange, washed
1/2 c (or more to taste) dried cranberries
Powdered sugar (a few tablespoons)
Instructions
With a micro-plane, peel the zest from the orange. Slice the orange in half and squeeze the juice into a small bowl.
Proceed with the first four steps of the basic scone recipe.
At the point where the recipe calls for adding the dry and nearly-dry ingredients (step 5), stir in the dried cranberries and half of the orange zest.
Continue with the basic recipe through the forming of the scones. Brush the tops with buttermilk before baking.
While they're baking, mix the remaining orange zest, orange juice, and enough powdered sugar to make a syrupy glaze.
A few minutes after they come out of the oven, dip the scones top‑down into the glaze. Allow the excess to run back into the bowl. Place them on a platter or clean baking sheet to cool.
---
Variations:
Substitute one large lemon, two small lemons, or two limes for the orange. I haven't tried using grapefruit yet, but it's bound to be good, right?