Note: This post is a sequel to Walking Every Day, Wherever I Find My Feet.
---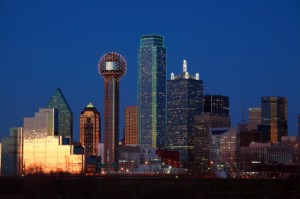 On my way to Dallas yesterday, I ran into a traffic delay in Spring
and another one near Centerville, where I-45 was reduced to one lane for about five miles. It took more than half an hour to crawl through the construction zone. So I didn't get into town until about 8 p.m., only to discover that in the two months since I made my reservation, I'd somehow confused my hotel (the Marriott Suites Market Center) with another one nearby (the Marriott Residence Inn Market Center). That mistake added another half hour to my already-too-long journey.
Nevertheless, as soon as I finished checking in, I dressed in walking attire and headed up the freeway to Bachman Lake. But walking on the lake turned out to be scarier than I'd hoped. The path wound through clear space around the lake and was reasonably well-lighted, so I wasn't especially afraid for my personal safety. But the parking lot didn't inspire confidence. A sign offered the reassurance of video surveillance, but as I got farther and farther away from my car, I kept thinking about how quickly someone could get break in and get away with my wallet. After 10 minutes of walking, I started imagining how I would feel if I had to report such an event. I double-timed it back to the car—which was intact—and headed back to my hotel. The risk of shame is a powerful motivator.
Glass-half-full moment: Bachman Lake is at the end of the runways of Love Field, so at least before I fled, I got to enjoy the dazzling sight and sound of two Southwest jets coming in for landings right over my head!
Back at the hotel, I stashed my valuables, then went out to wander the neighborhood. Dallas's Market Center isn't a nightlife-rich environment—mostly concrete, freeways, rushing traffic, and empty office buildings. I decided to grant myself "moral equivalency" exercise credits for the harrowing drive and the abortive attempt to walk around the lake. I walked for about half an hour, then called it a day.
Next up: The trail around White Rock Lake in sunshine and 70° weather—and the chance to make up for some of yesterday's missed miles. (Sometimes moral equivalency credits expire overnight. Sometimes I make up the rules as I go along.)